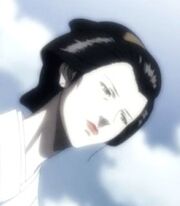 Lady Iku (いく Iku)
Iku is the concubine of Kogan. She is the subject of a derisory children's song and outcast amongst the local populace due to the belief that coming into close proximity to her would result in a cursed and painful death. This public scorn only increased her dependence on her husband. Iku is prisoner of Kogan, her fiancés having been murdered by Gonzaemon on the orders of Kogan. Unlike Fujiki, Iraku and Mie, Iku is never referred to or depicted as a demon but eventually as Bosatsu, a Buddhist term for one who has reached enlightenment and transcended earthly concerns. Iku unconditionally loves Iraku, from carrying Iraku on her back when he was injured, helping Iraku live with his blindness, even cleaning him after he defecated to branding herself with hot tongs to prevent Iraku from being castrated. Iku also displays overt acts of kindness to others, particularly her treatment of Fujiki when he was a young boy. Iraku also could not bring herself to shoot Mie despite taunting her. 
Ad blocker interference detected!
Wikia is a free-to-use site that makes money from advertising. We have a modified experience for viewers using ad blockers

Wikia is not accessible if you've made further modifications. Remove the custom ad blocker rule(s) and the page will load as expected.